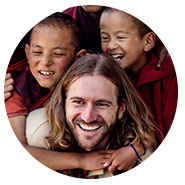 "Traveling—it leaves you speechless, then turns you into a storyteller."
Elia Locardi is an internationally acclaimed professional travel photographer, writer, experienced public speaker and highly skilled educator who spends his life shooting some of the most beautiful locations in the world. Featured by Professional Photographer Magazine, CNet, Wacom, SmugMug Films, Adobe, Fujifilm and Fstoppers, Elia began working full-time in the photography industry in 2009, and since then he has visited more than 65 countries, flown nearly 2 million miles, and collaborated with major companies, brands, countries, NGOs, and tourism agencies on nearly every continent. Due to the years of dedication and genuine openness with his colleagues and audience, he has become one of the most followed photographers in the industry, while building and maintaining  a highly engaged social media following across all major networks.
TLDR; I'm Elia Locardi, a full-time world travel photographer, keynote speaker, and educator who has traveled to 70 countries, flown more than two million miles, and taken over 50 terabytes of photographs. I've spent most of my career pioneering advanced...
read more


Nomadic Photographic | SmugMug Short Film
In 2016, we were very honored and excited to have Award Winning SmugMug Films Team create a short film about our full time photography and location independent lifestyle. The entire process was an amazing experience and the film itself was magnificently done! A huge thanks to the Anton Lorimer and the SmugMug team for making this possible.
I've teamed up with Fstoppers.com to produce a series of premium quality video tutorials.
Over the years, I've teamed up with Fstoppers.com to produce a series of premium video tutorials and educational resources. We traveled to Iceland, New Zealand, Italy, Singapore, Cambodia, Hong Kong, Dubai and parts of North and South America, so we could teach every aspect of Landscape, Cityscape, Astrophotography, and Post-processing.
Each edition of Photographing The World is a digital download and comes with every single raw file and PSD so you can easily recreate each lesson from start to finish. Lessons take place both in-the-field and then move into the post-processing phase, covering everything from scouting and shooting each location as well as how to edit the images and create truly compelling visual imagery.
From waterfalls and ice caves in Iceland, to the timeless architecture of Rome Italy, to the top of Victoria Peak in ultra-modern Hong Kong, and even under the dark star-filled skies of New Zealand, Photographing the World has something for everyone interested in dramatically improving their landscape, cityscape, astrophotography, and post-processing. Whether you're new to photography or a seasoned professional, there is certainly something valuable you can learn from this diverse collection of tutorials. Click on each thumbnail to find out more.